Orlando Networking Services
We specialize in complete network setup including software, hardware, and wiring. Our technicians specialize in new installations of Category 5e cable as well as upgrading or repairing existing jobs. Has your network been running slow lately? You may have bottlenecks in your network. We can troubleshoot your network as well as add new hardware that will help eliminate network problems.
Network Monitoring
We can setup remote monitoring and management from our office to your office to optimize uptime on your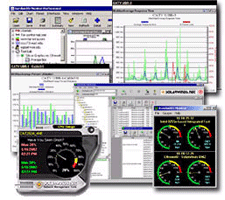 network. We will be notified automatically as soon as something has or is about to go wrong on your network. This is is the most cost effective way to maintain your network. We can fix most problems remotely without leaving our office which will save drive time to your office. Our monitoring software can also be configured to automatically fix many issues without waiting for human interaction. It will perform the programmed repair task and then notify us so we can examine the cause of the problem. If the repair or changes require on site assistance we are available 7 days a week. (Please see plans available) We have over 55 test and monitoring services we use. Below is a list of devices and services on your network that we can monitor:
Routers
Switches & Hubs
Servers ( Web, FTP, File, Print Servers, etc...) Windows 2000, 2003, 2008 & 2012
Workstations
Printers
Computer & Server Services
Bandwidth Monitoring
Performance Monitoring
Network Traffic
Firewalls
Web Services
Mail Services (Pop3, IMAP, Exchange)
Contact us for more information and pricing.

We can also set your company up with a backup solution. Whether it is to other backup servers or removable media such as tape or cd that can be removed from the property to ensure maximum protection.
Web Server & File Server Maintenance
Emerson Communications Server Technicians can troubleshoot and fix problems with you web servers that may be causing web site slowdown and latency. We specialize in Windows Server 2000, 2003, 2008 & 2012 operating systems. We can performance tune your IIS 6 and 7 configuration, configure your Mail Server, manage your firewall, etc.

Contact us if you would like to speak more with a server technician.
Cable Management
Is your office or equipment room a tangled mess?
Do you have patch cords running in all directions?
Tired of tripping over cables in your office?
Are you missing important labeling and documentation?
We can solve these problems too!
Give us a call and we can come out to your property to inspect it and give you
an estimate!