Online Booking Engine
Our Hotel Booking Engine is the cream of the crop when it comes to taking reservations online. We have over 20 years experience in both the hotel and web design business with experts that give you the best of both worlds. Our booking engine is user-friendly, packed full of options, allows for customizable features to fit your companies specific needs and displays search results with incredible speed.
Booking Solutions
Unlike many web design companies who offer canned and basic booking engines that look dull and don't have features for the modern web user, we have built our booking engine from scratch using ColdFusion Technology. It has been tested and retested and currently has been upgraded to version 3.0.
For any industry today your website is an extremely important part of your business. It is the face of your company and gives users their first impression of your company. A booking engine can be a deal breaker when a user is thinking of booking a room though your website and become confused or frustrated with it's functionality. You can have the flashiest site on the web but if you booking engine is sub par or unprofessional looking you could very well lose your sale.
EZReservation.net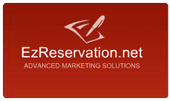 We have partnered with EZReservation.net in order to offer our client a top of the line booking engine with all the features they crave. EZReservation has over 20 years experience in the hospitality industry. Their staff knows what both the consumer and the provider need in order to be successful in the industry.
We can seamlessly integrate our booking engine into your website. You simply give us access to your website and we place a few lines of code that in turn unleash new money making potential through your site. To monitor your bookings, availability, and occupancy you simply log into the secure backend with a username and password of your choosing. This is where you can view all the data related to whose renting out your rooms, when you will be most busy, and when you should prepare for a slow period.
Booking Engine Features
We can add any features or functionality to our booking engine to fit your needs. We also have our standard booking engine that is being used by numerous websites booking rooms online. Some of the standard features are listed below.
We start you off with up to 10 room types that you can enter in custom names, descriptions, and prices. Any changes you make in the backend will be immediately posted on the site. A feature that helps you keep track of availability allows you to set the inventory level and an email notification will be sent if it goes below that level.
When you are setting your rates we offer the option to lower rates for guests staying longer in order to give them incentive to stay more nights. Once you fill your hotel you can close off a certain room types or certain dates. If you want to give discounts to returning guests or a group of patrons we offer a promo code feature so once the code is entered the rates are adjusted as you see fit.
Once a booking is made an email is sent to you as notification. Also, we back up all reservations in separate databases to ensure no bookings or lost or damaged. These are just a few of the features offered. Go to EZreservation.net in order to try out one of our booking engines and talk to an experienced consultant. We look forward to your business!