Orlando Search Engine Optimization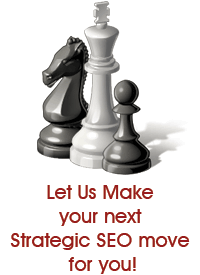 Search Engine Optimization should not be an afterthought of Web Design. Instead it should be carefully researched and planned out at the beginning of the design process. Keywords, content layout, and competing web sites should all be factored in when creating an SEO Plan of Attack. Also, you need to monitor and make changes to your site even after it has been launched. Competition for the top rankings for certain keywords can be fierce and we have the expertise and work ethic to keep your site atop the rankings.
Search Engine Optimization Proposal
Once we are contacted from a company interested in SEO work we then begin to put together a Search Engine Optimization proposal in which we go over every aspect of optimization and list off our services and plans. Here is a list of items covered in the proposal:
SEO Objectives Outline
Site Analysis
Competitive Analysis
Keyword Research and Difficulty Check
Link Popularity Research
Once we have a good feel of your site and you give us approval to go ahead with optimization here are some of the techniques we can put into effect:
Content Optimization

Content Organization
Keyword Density

HTML Optimization
Link Exchange Program
Submissions to Directories
Site Map Generation
The Importance of Search Engines and Search Engine Marketing
The search engines currently account for over 85% of all new visitors to a web site (GVU Users Survey). You have probably read this fact before, but what you may not know is that 33% of all search engine users believe that the top positioned web site is the number one brand in that industry (Voter.com). In fact, in our own studies it has been shown that over 60% of search engine users would rather switch to a different search engine than browse beyond the first 10 positions.
Search engine marketing is not only effective, but the Cost Per Lead is lower than many other forms of marketing. Compared to direct mail, acquiring a customer through search engine marketing is 35 times less expensive.
With this kind of knowledge, web site owners now have the power to ensure that their business is successful. And for the first time, with the assistance of Emerson Communications Corp., the established leader in search engine marketing, they have the means to legitimately achieve success. Our expertise in keyword ranking and search engine marketing will ensure that any business owner can enjoy top positioning on search engines such as Yahoo, Google, MSN and a lot more.
The Truth About Search Engines
Go to any search engine and type in a search for "search engine submission" and you will see hundreds of companies claiming to submit your site to over 2000 search engines and web sites. While, they may well submit your site to that many sites, only the Top 15 search engines create any noticeable amount of traffic. In fact, we have found that the Top 15 search engines account for nearly 90% of all search engine traffic.
All of our services concentrate on the search engines that are likely to bring your web site high levels of traffic. Unlike some of our competitors, we will never try and claim success by ranking your site on a search engine that few people use. In fact with all of our Search Engine Marketing Services, you will find that not only do we place in writing the search engines you will be optimized for, but we also agree on the keywords to be ranked before any work is done.